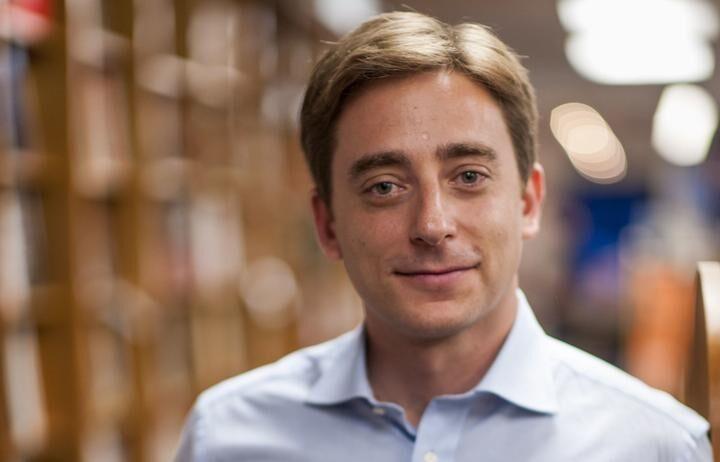 LENOX – Returning to the United States after 10 years of reporting abroad, New Yorker magazine editor and award-winning author Evan Osnos was surprised by seismic and unfathomable shifts in the political, social, cultural and economic fabric of the country.
It was 2013, the first year of Barack Obama's second term as president. As Osnos, 45, writes in his third book, 'Wildland: The Making of America's Fury', published last September, he discovered 'how fear affects our political lives' and how the poison of misinformation corroded too many citizens. understanding of the reality that surrounds them.
The sprawling and intensely personal volume (Farrar, Straus and Giroux, 480 pages, $30) traces a related theme ranging from the terrorist attacks of September 11, 2001, to the assault and attempted insurgency on the US Capitol on January 6, 2021, as well as the spread of QAnon conspiracy theories, accepted by 25% of Republicans, according to a recent poll.
"These cracks in American life were part of a larger fracture," Osnos says. Income inequality, hostility toward immigrants (especially Muslims and Latinos), an epidemic of mass shootings, the trauma of domestic terrorism, accelerating breakdowns in the nation's infrastructure – a long list of worries.
Osnos hit the road to tell what he saw happening around him, a seven-year reporting and writing odyssey focusing on three places he had lived before becoming a foreign correspondent:
• Greenwich, Conn., where he grew up and graduated from local high school in a town known as an enclave for the super-rich but now increasingly diverse.
• Clarksburg, W.Va., the beginning of his journalistic career in 1998 as a photographer for the daily newspaper Exponent Telegram.
• Chicago, where he landed an internship in 1999 then a position with the Chicago Tribune, until becoming head of the newspaper's Beijing bureau.
At 7 p.m. May 10, Osnos will discuss his findings on the plight of ordinary Americans in the face of a lingering pandemic, political polarization and unrest, efforts to achieve racial justice, and the impact of economic upheaval and of inflation. He won the National Book Award for his first book, on China, in 2014 and a Pulitzer Prize finalist in 2020 for his second book, on Joe Biden.
The conversation will take place with Boston Globe opinion columnist and former editorial page editor Renée Loth. The public will be able to ask questions and Osnos will sign copies of his book.
The free in-person event takes place at Shakespeare & Company's Tina Packer Playhouse, but reservations are required and can be made at eventbrite.com/e/une-soiree-avec-evan-osnos-tickets-317691793707.
The discussion draws from the "Bridging Divides, Healing Communities" speaker series, launched in the spring of 2021 by the Berkshire Taconic Community Foundation and The Berkshire Eagle. The series explored the various forces and trends that are creating division in our society and possible local actions that could create common ground.
The May 10 event is sponsored by the Berkshire Taconic Community Foundation, the Authors Guild Foundation, the Berkshire Eagle and Berkshire Bank.
The Eagle met Osnos on Thursday in Italy, where he is on a reporting trip for The New Yorker:
Q: When you returned to the United States in 2013 and studied the scene here, why did you decide to embark on a seven-year, deeply-recorded book-writing project?
A: I was less interested in documenting the strange digressions of Washington—there was enough written about that—than in trying to understand the origins of our crisis of faith in democracy. Why did so many Americans express little confidence in the government's ability to solve our problems? How did this happen? I realized that the answers weren't going to come from conventional political reporting. You have to dig into the lives of ordinary people and try to find the explanations that don't come so loudly, and that takes time.
Q: The title of your book, "Wildland," could easily be interpreted as a reference to the state of our nation. But for you, its origin is very particular. Where does it come from?
A: It's a term that comes from the world of firefighting. Wild land is the land that ignites in a forest fire – land that is very often so parched, overgrown or untended that it only takes a single spark to ignite, and the fire takes on a life of its own. Living in Washington, I often thought of this metaphor, of a country in which the problems of our politics and our economy – problems of race, class and gender – had grown steadily for years, fueling a fire. In the end, it was Donald Trump's presidency that ignited the spark.
Q: Reading your deep dive into the lives of ordinary Americans in three such distinct places, it seems like you are reporting on three distinct nations. Can the "United" in the United States survive as we contemplate outright deception and lies in some neighborhoods, including Capitol Hill?
A: I think the past few years have given many Americans an alarming realization just how fragile our institutions really are — and, indeed, how fragile the union itself could be. And part of the problem is, indeed, that many of the people we elect to serve on our behalf are willing to bend and attack the truth. I've lived in enough places to know that once you lose a public culture of truth and impunity for dishonesty, it can be a cascade of skepticism about anything in society. This is why it is encouraging to see public efforts to recommit society to facts, science and empiricism. It will take effort to bring him up to the political level, but the focus on him is a major step in the right direction.
Q: Since your manuscript was completed just over a year ago, as you watch our nation inflamed by partisans today, do you foresee a path to reconciliation and, if so, what does it look like? does he?
A: Believe it or not, I'm encouraged. The mere fact that we speak candidly about these crises of democracy is a sign that we are on the way to something better. Ten years ago, it was considered a bit of a stretch to say that we were facing really fundamental risks to an open society. But today, it's almost commonplace. At the event in Lenox, I will discuss some of the people whose experiences demonstrate resilience and a belief that American society can, in fact, change for the better. I was inspired by many of them.